Craftech Roofing in Denver, Colorado offers affordable roof replacement and roof installation. We help you choose the right types of roofing materials to get the look, durability, and longevity you are after that works with your budget.
Step 1 – A Thorough Roof Inspection
If you are replacing a roof, the first thing that needs to happen is a thorough inspection of your home or commercial property. Our roof inspectors are trained to look for problem areas such as insect damage, wood rot, or poor construction issues that might affect the performance of your new roof.
Step 2 – Choose The Right Shingles & Materials
There are many roofing materials you can use for a roof replacement and many color and style options for each type of material. Even affordable options like asphalt shingles and metal roofs come in a variety of finishes and colors.
Add decorative flair with special shapes and colors, or stick with the standard simple and functional asphalt roof shingles. Our roofers can recommend the most appropriate materials for your building type that will stand the test of time with our wide range of seasonal weather conditions in Colorado.
We have suggestions to make it affordable… or go high-end if you want a specific aesthetic, or if you are aiming to save money on heating and cooling bills.
Common Roof Types
Step 3 – Tear Down / Roof Installation
Once all the preliminary decisions are made, your roof installation begins. Most residential roof replacements are completed in just one or two days. Commercial replacements may take longer, but completing the project in a quick and efficient manner is always our priority. You will usually see construction completed in four stages:
The building is prepared for a smooth installation.
All the materials are delivered to your location.
We install the materials accurately and in a timely manner.
Finally, the roof and surrounding areas are cleaned up of any waste materials from the construction.
We provide a 5-year workmanship warranty on any new roof.
Does Homeowners Insurance Cover Roof Replacement?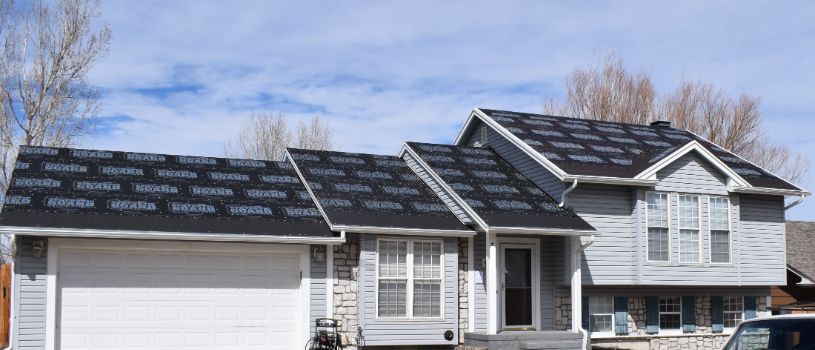 Most insurance policies do cover for your roof if needs to be replaced from damage due to a fire, fallen tree branch, accident, wind damage or another natural disaster. Please open a claim with your homeowner's insurance company right away. Tell them you have chosen your own roofing company and we will work with your insurance to get a partial or full roof replacement completed as quickly as possible. They will receive a copy of our invoice and evidence of the damage and they will release funds to pay for your roof.
It's important to select your own preferred roof replacement company as if left to the insurance provider, they most likely will be selecting the cheapest option, which may not be the best option for having your roof repaired quickly.
If the roof sprung a leak or shingles have blown off over time, or if your roof is old – it most likely will not be covered by your insurance. Normal wear and tear on roofs are typically not covered by insurance claims.
Get A Roof Replacement Quote
We are committed to providing you with a high-quality roof that lasts for decades. When you choose us for a new roof installation or roof replacement, it means a smoother, more affordable, and high-quality result. Contact us for a free consultation in the Denver, Colorado area today!