Craftech Roofing, Inc. is a residential and commercial roofing company that has been serving Denver, Colorado, and surrounding front-range communities since 1986. We specialize in re-roofs and roof repairs.
Residential Roofing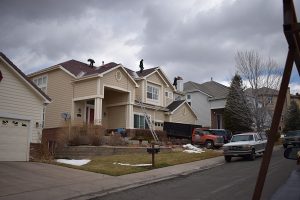 A properly planned and installed roof can enhance the beauty of your home while protecting your family and property. Craftech Roofing, Inc. is committed to installing a high-quality roof that lasts no matter what style of residential roofing materials you choose.
Craftech Roofing, Inc. takes pride in quality workmanship, doing the job the right way the first time. We provide a 5-year workmanship warranty on any re-roof job we complete for your peace of mind. Craftech Roofing, Inc. offers products for both steep, sloped roofs and flat or low slope roofs that will best fit your needs.
Craftech Roofing, Inc. uses the latest in technology to ensure that you get the best quality roof installed.
Commercial Roofing
Repair and maintenance programs can be the most effective way to achieve long-term value from existing roofs. Future roof problems can be reduced or eliminated at considerable economic benefit if there is regular maintenance. We want your long-term business by helping you maintain and control your roofing needs.
Professional Management of your commercial roof includes the following:
Preventative and Corrective Roof Maintenance Programs
Emergency Leak Repair Service
Complete re-roofing services from built-up applications to composition shingle installations
Always a competent journeyman on the job with a minimum of 5-years experience
All leak repair invoices include a written description of work completed
Roof certifications for real estate companies and private property buyers and sellers.
We provide our customers $2,000,000 in Liability, and $1,000,000 in Auto and Worker's Compensation Insurance, all with "A" rated carriers
Our Mission
Craftech Roofing is a company that is specific in its purpose. We aim to provide the highest roofing craftsmanship with the correct roofing technology, in a timely manner and at a reasonable cost to all its customers.




Repair Services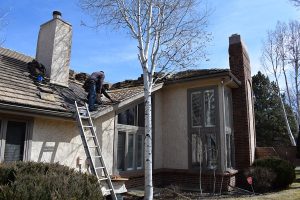 Most roofs under ten years old can be repaired, depending on if the shingle or tile is available. Some roofing product manufacturers are no longer in business and are no longer making their shingles making an exact match repair difficult.
Fortunately, most repairs do not require replacing shingles or tiles. If there is a problem area, we will replace some old shingles with new shingles as they lay flat and are better to work with.
Sometimes though, a roof can just be worn out and re-roofing would be the wise thing to do. If a repair estimate exceeds more than half the cost of a re-roof, we will provide you with both a repair estimate and a replacement estimate to give you the best option. Getting your insurance company involved can be a good idea if costs are higher than your deductible. It doesn't cost anything to ask them if cost would be covered.